TOUR DE FRANCE APPROACHING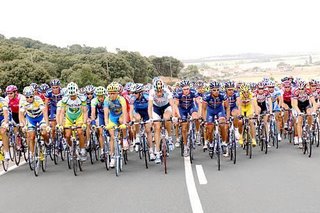 It seems impossible that we are less than a month away from the 2006 edition of the Tour de France. Without the usual speculation as to whether or not
Lance Armstrong
will win another consecutive tour, lead-up to the grandest of the "triple crown" of Grand Tours of professional cycling (Giro d'Italia, Tour de France, Vuelta e Espana) has been out of the sports headlines. But make no mistake: the month of July in France promises to be full of intensity and passion, tragedy and triumph, poetry and profanity, guts and glory.
A NEW CHAMPION. Whatever happens, a new champion will stand atop the podium on the Champs Elysees in Paris. Will it be another American? Possibly. A rider for Armstrong's Discovery Channel team? Maybe. The often-denied runner-up Jan Ullrich? Could be. A well-deserving rider who has bested the best in the world over 2,000 miles in 21 days? Definitely!
FOLLOW AS I BLOG IT. As usual, I plan to follow the Tour de France closely live online and on TV (OLN will carry the latter portion of each stage live). I will post recaps, summaries, and comments on my blog
"The Tour de France for the Rest of Us."
This is the Tour de France in plain English, not a bunch of cycle-ese and techno-jargon. I hope you'll check in. Until then, what are you waiting for...get on your bike and ride!