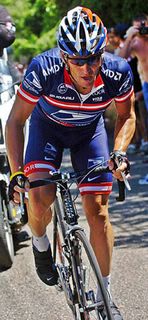 LANCE IN 2005? Lance Armstrong, Tour de France champion and cancer research advocate, told Oprah Winfrey yesterday he will attempt to defend his Tour title.
But he did NOT say if it would be in 2005!
Ever since winning in Paris for an unprecedented sixth consecutive time last July, there has been speculation about whether or not he would make another attempt. I hope he will try to defend his title this year.
A FAIR CHANCE. Win or lose, Armstrong's participation in this year's Tour de France would give all rivals a fair chance at dethroning the reigning champ. If he wins, he further sets himself apart. If he loses, he goes down trying. There are plenty of young, up-and-coming cyclists who will rise to the occasion and knock themselves out with Lance in the Grand Tour.
THE ONE-HOUR RECORD. Lance certainly has his eyes set on another prize in 2005: the one-hour record. He is planning an attempt to ride the longest distance ever within a 60-minute time frame. The effort will likely be made at high altitude on a wind-harbored outdoor velodrome or specially-built indoor track. Other possible win attempts may include the Tour of Italy or Tour of Spain. Stay tuned to professional bicycle racing at
www.cyclingnews.com